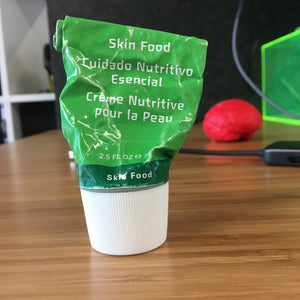 A balm for chapped skin and existential yearning.
Aren't the last bits of something always the bittersweetest? The last bite of cookie. The last chapter of a book. The last text you received from that hot data entry manager who actually seemed sincere in wanting to see you again but who, let's be honest, you were never going to truly be able to be yourself around (because that face), and what was going to be the actual endgame for someone with whom you never felt free enough to reveal your not unhealthy obsession with Pusheen? But that last text, though. 
This (mostly) used tube of Weleda Skin Food provides all of the eyes-rolling-back-in-your-head pleasure of the famed German salve, with none of the hassle of working through seven-eighths of the tube to get to the good part. 

1/8 of 2.5 fluid ounces

Smells like sleeping babies 

Right before they wake up